Description
Features
Download
Basic kit for service centers.
If you provide services to farmers or sell agricultural equipment and want to increase the competitiveness of your products by automating them, use the AgroPilot SC10 regulators. The kit is mounted in any sprayer, seeder or cultivator, the connection is simple. Download manual in PDF format.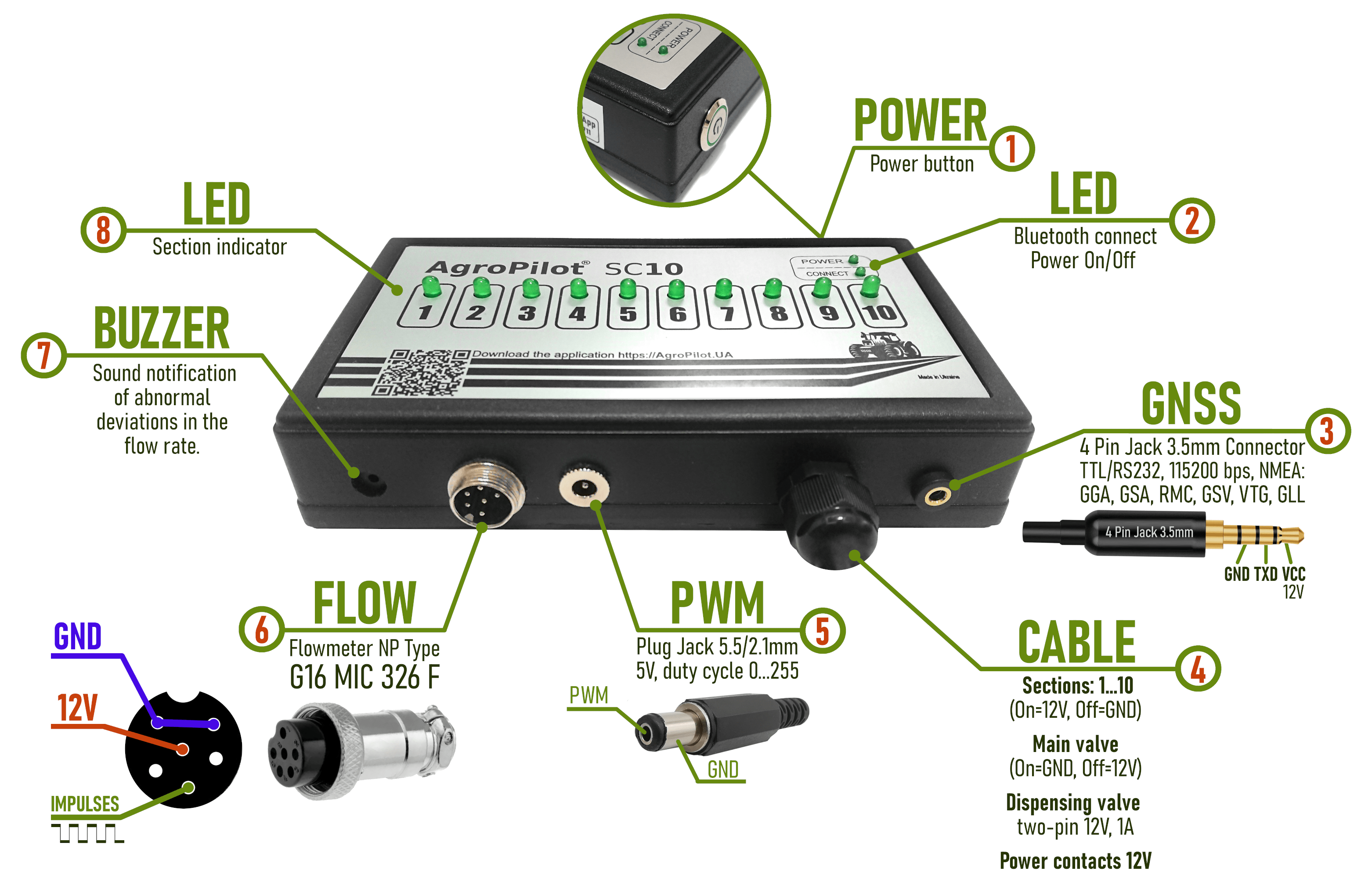 Offer your customers rugged tablet kits with the required parameters: RAM 4 GB or more, Android OS 6.0 or higher. Download the specialized APK file for dealers Launcher, this version is implemented with a launcher function (workspace shell), after installation, the application will ask you to assign it to the role of the home screen and provide administrator rights. In the future, your tablet will only be suitable as an agricultural terminal. After activating the equipment in the system, the dealer's contacts will automatically appear on the desktop AgroPilot App.

Get maximum positioning accuracy by connecting external receivers of any manufacturer to AgroPilot SC10 controllers via Mini Jack 3.5mm connector. For high accuracy, you can use receivers with RTK correction. Data transmission of your GNSS receiver must be carried out via UART TTL / RS-232 interface, speed 115200 bps, we recommend setting the minimum NMEA data packet: RMC (from 10 to 20Hz), GSV (1Hz). The connection diagram of the contacts is shown in the photo above, before the TXD contact it is necessary to install a current-limiting resistor from 1 to 2 kOhm.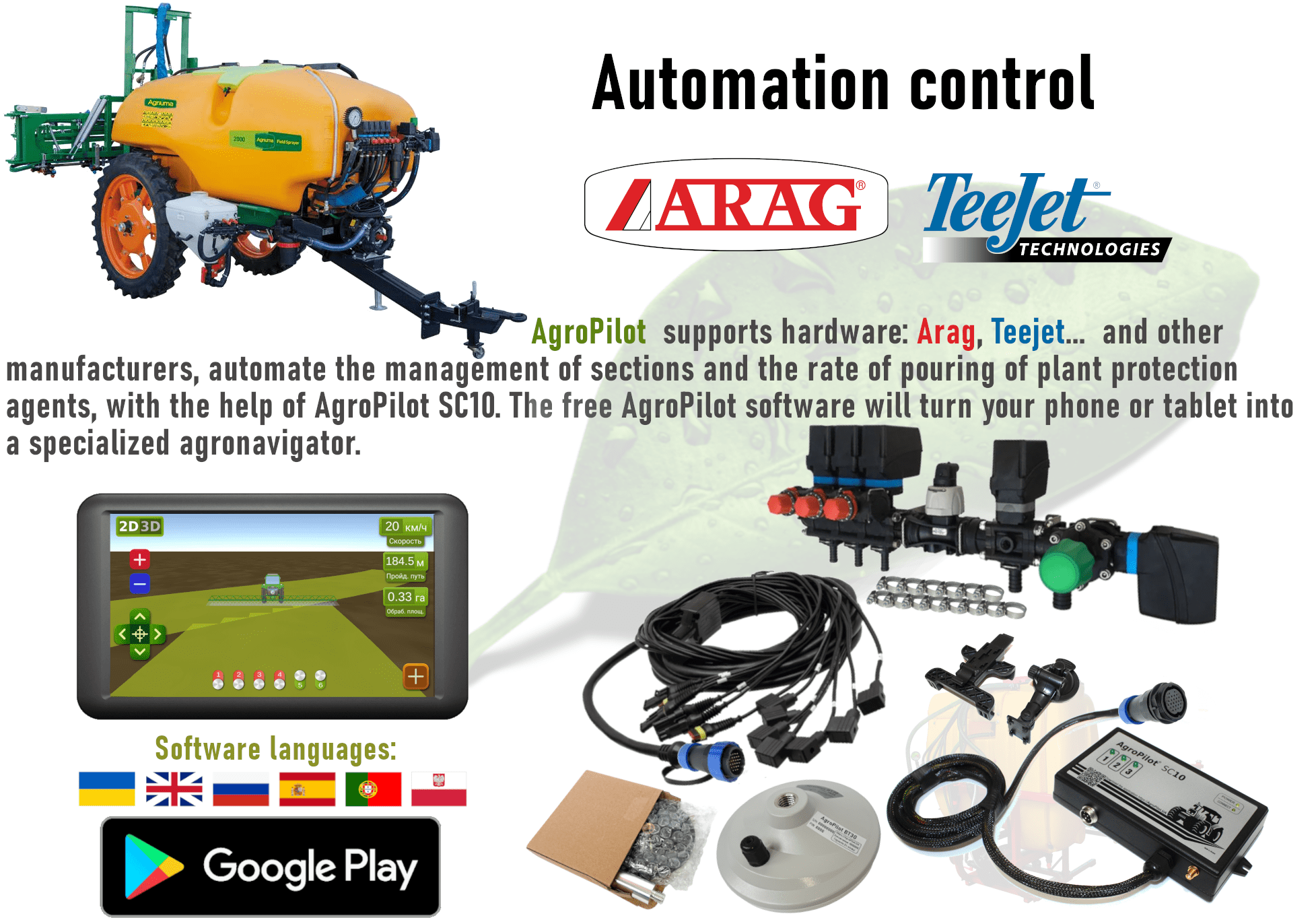 The basic kit is supplied without valves, a metering valve and a PWM driver, you can use equipment from any manufacturer for automation. Regulators are designed with versatility in mind, both specialized and universal section valves are supported. The control algorithm for the faucet dispenser allows the use of standard water electric faucets, as well as specialized ones, in the system. To obtain data on fluid flow, flow meters must be of the NP type - pulse closes to ground (GND), for correct dosing, the recommended number of pulses per 1 liter is 200 or more. The devices implement self-calibration of the PWM controller, use the liquid fertilizer system with various electric pumps. To connect a PWM driver, use a power plug (Plug Jack 5.5/2.1mm, 9mm), PWM signal frequency 12 kHz, duty cycle from 0...255, voltage 5V.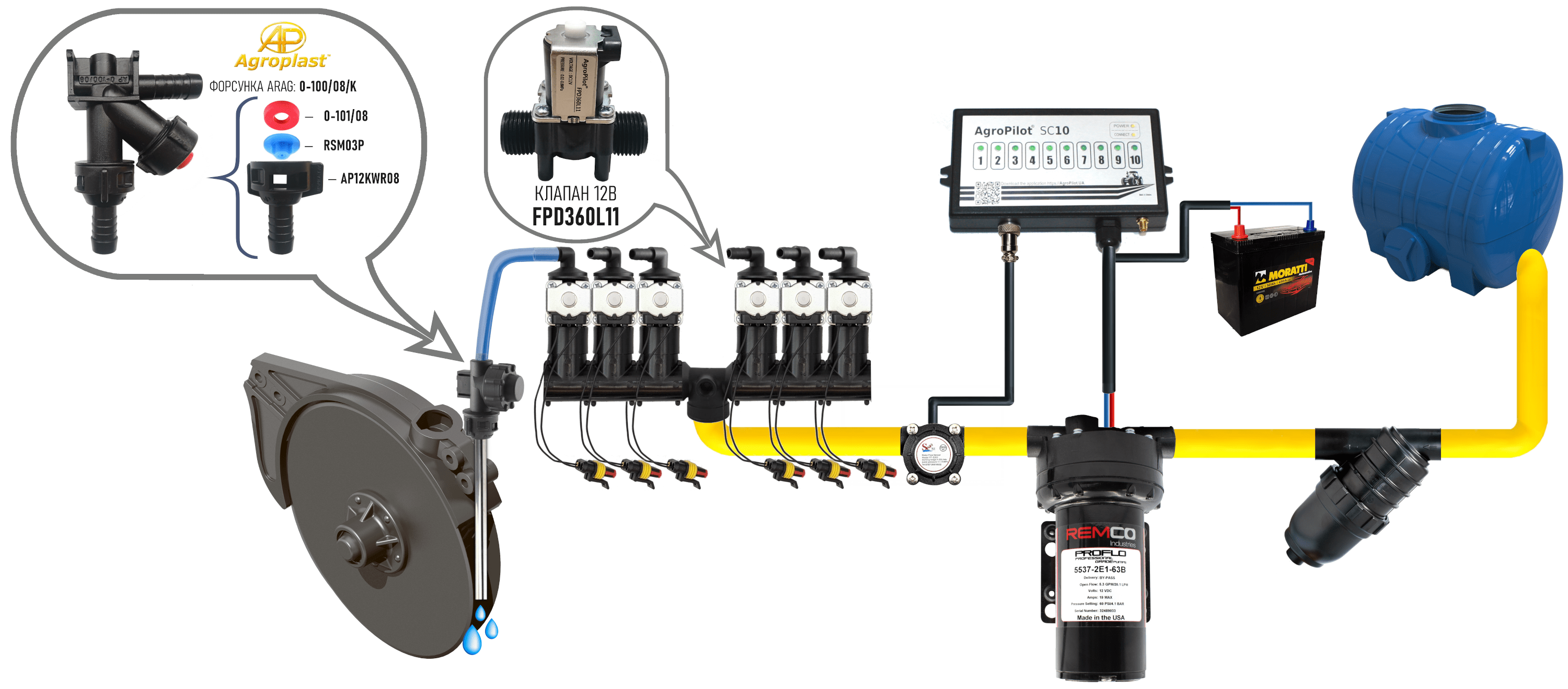 Characteristics
Number of sections

Кількість секцій яке підтримує пристрій, якщо ви придбали комплект на 10 секцій, то їм можна автоматизувати всі ваші обприскувачі, сівалки або культиватори. Наприклад один на 3, інший на 4, третій на 5 секцій..., вказавши в налаштуваннях програми AgroPilot GNSS необхідну кількість секцій.

10
Positioning frequency

Частота з якою приймач видає дані про місцезнаходження (5 Гц = 5 разів за 1 секунду, 10 Гц = 10 разів). Чим вище частота позиціонування, тим швидше навігаційна програма відображає ваше місце розташування, оптимально 10 Гц. Якщо частота вище 15-20 Гц не всі навігаційні програми працюватимуть коректно, для таких частот рекомендуємо використовувати тільки AgroPilot GNSS.

10Hz (up to 20Hz)
Course Accuracy

Точність «Pass to Pass» – це термін, який використовується для опису потреб фермерами щодо точності, визначається як точність, яка може бути досягнута протягом 15-хвилинного вікна – приблизний час для виконання проходу в типовому полі. Як перевірити її з урахуванням стандарту ISO 12188 вказано на сторінці "Питання та відповіді".
+/- 30cm
Autonomous Precision

Точність, яку пристрій показує на місці (без руху) за 24 години. Для систем паралельного водіння необхідно враховувати тільки точність руху від проходу до проходу «Pass to Pass», як перевірити її з урахуванням стандарту ISO 12188 вказано на сторінці "Питань та відповідей". «Pass to Pass» завжди точніше автономної, завдяки програмним фільтрам.

2.0 m CEP
Accuracy with SBAS

Точність, яку пристрій показує на місці (без руху) за 24 години з прийомом корекції SBAS. Для систем паралельного водіння необхідно враховувати тільки точність руху від проходу до проходу «Pass to Pass», як перевірити її з урахуванням стандарту ISO 12188 вказано на сторінці "Питань та відповідей". «Pass to Pass» завжди точніше автономної, завдяки програмним фільтрам.

1.5m CEP
Bluetooth 2.0 and TTL/RS-232
GPS Receiver RU45385M3.5V5V-GGCU
"AgroPilot" registration number No. 175901 dated 10.09.2013
Universal programmable water pressure regulator for process control.

With this product also buy